"Did You Know?" is a new 
Peabody Press feature, illuminating some of the lesser-known facts about Groton School.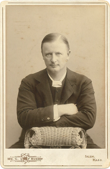 Did You Know?
We have St Mark's School to thank in part for the founding of Groton School. In the spring of 1883, St. Mark's invited Endicott Peabody to Southborough for Holy Week while it was looking for a clergyman to conduct services. Mr. Peabody addressed the school each morning, and he loved the work.


At the time, St. Mark's also was looking for a headmaster to fill the position being vacated by Dr. James Coolidge, who had been there for nine years. Mr. Peabody was asked, informally, if he would consider a permanent position at the Southborough school, although the headmaster had to be a clergyman and Mr. Peabody was not yet ordained.


The St. Mark's trustees opted to go with Mr. 

William 

Peck, the then acting headmaster and a long-term faculty member. Prior to St. Mark's announcing the trustees' decision to go with this strong internal candidate, Mr, Peabody visited with a friend who said to him, "If they don't elect you at St. Mark's, why don't you start a school of your own?" Apparently, he liked that idea.